Founder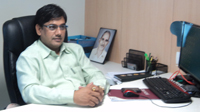 Mr. Pradeep Chaudhary
Metallurgical Engineer
Director
It all began with the vision and pioneering spirit of one man Mr. Pradeep Chaudhary. He always encourage our young brigade for Perfect and Quality work. Pradeep has a number of firsts to his credit. His career in Heat Treatment began way back in 1986 and has seen a chequered growth ever since. At a time when awareness about the Heat treatment was at its nascent stage. Ever since, Pradeep continues to pour all his specialized knowhow, insights and ideas into our organization as the main business strategist and ideator.
While working he had realized his quality of making and maintaining healthy relations with people. Having helpful nature he has always tried his level best to assists people in their tough times...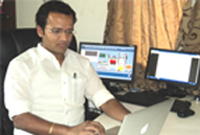 Mr. Abhijit Rahane
Electronic Engineer
CEO
Abhijeet Rahane is dynamic having vibrant and enthusiastic personality. He has been working in this field for the past two years. After completing his engineering degree he has joined our organization and in very short span , he realized his passion of making good name that stays for a long span in the minds of the people. In this short span but with his hard working he is successfully handling Machining department with new techniques and new ideas.
Our Team
We have recruited a skilled team, which is dedicated towards providing immaculate services to our valued clients. Furthermore, with the help of our prompt service delivery and competitive pricing, we have mustered a prestigious client base across the market. Moreover, our prolonged efforts and ethical practices have helped us in developing amicable business relations with our huge clientele.
Be a good supplier thriving to achieve new horizons for our clients.For the same we have configured a team that may compete with best possible resources of the respected filed. Along with being highly professional the team is vibrant dynamic with expertise and technology management give value for our commitments and cooperation so as to enhance every possible way of reaching their goals which ultimately benefit our clients. We are dedicated to enforce high standards of customer service and reliability.